Charge Station - Solar Panel Umbrella
The original SiteScapes aluminum umbrella now offers solar powered USB charging, allowing users to stay connected in the outdoor spaces they frequent. Powered by Sunbolt™, SiteScapes solar umbrella is perfect for charging phones, tablets, and laptops on the go while maintaining the aesthetics and durable shade cover of SiteScapes aluminum umbrella collection. Aluminum and Solar powered umbrellas can be fitted with most of SiteScapes carousel style tables and are available in a multitude of color combinations.
You can now incorporate four Solar photovoltaic module panels into the panels of the SiteScapes umbrella to provide power to three dual USB chargers. These solar panels will continually capture the suns rays and charge the lithium iron phosphate battery used to power the USB ports.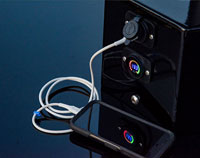 Benefits Include:
Availability for 6 users at once
Solar system will provide continuous charging during full sun without ever using the battery bank.
(2) 18Ah Lithium Iron Phosphate batteries provide 440+ Wh of charging capacity, enabling 30-50 averge daily charges.
Durable permanently mounted structure rateed to withstand wind gusts of 185mph
Clean and tamper proof, wiring is hidden and contained within the unit.
Allows for outdoor work spaces.
Bluetooth-enabled smart charge controller and app provides real-time and historical charging data.
Promotes clean and green energy.

Details

4x 25W PV Solar Module Panels
2x 10Ah Lithium Iron Phosphate Batteries
24Vdc Rated Charge Controller
3x Dual USB Chargers
1x Dual USB Fast Charger
LED Battery Meter
1 1/2in Schedule 40 Steel Pipe, Center Pole
1/4 in Steel Plate Mounting Bracket for table installation
1/16in Punched Aluminum Top Panels
1 x 1/4in Steel Flat Bar Supports




Additional Links




Solar Panel Umbrellas
UM3091-AL-SP
7ft Canopy, Solar Panel Umbrella
84"x66"
105#

These umbrellas must only be used in conjunction with permanently mounted tables. SiteScapes will not be liable for any damage or injury resulting from misuse, improper installation or disregard of this warning.