QuarryView Propane Fire Pit
QuarryView propane fire pits features masonry planter pedestal bases and arrive fully plumbed. Each pedestal consists of four separate panels using hand laid courses of thin veneer which are bonded to a powder coated light weight steel frame. Panels are easily assembled by hand and do not require any tools. QuarryView Stonework is perfect for natural settings and pairs great with planter beds and foliage.
All QuarryView fire features are designed, engineered and manufactured with 100% non-combustible materials in the body. They can be installed on a flat, stable surface away from any combustible materials. Install fire feature on any level, outdoor non-combustible, flat stable surface or a combustible floor according. NOTE: Do not place fire pit directly on grass, dirt, or rocks this may prevent proper ventilation. Ensure proper water drainage is also incorporated into the fire pit enclosure.
SAFE OPERATION OF THIS PRODUCT IS PARAMOUNT, therefore all burner systems are UL Listed. A comprehensive, 14 page document is included with fire feature upon purchase.
IMPORTANT: Installation of Natural or LP gas should be done by a qualified installer, service agency or gas supplier.
This appliance must be isolated from the gas supply piping system by closing its manual shutoff valve during any pressure testing of the gas supply piping system at test pressures equal to or less than 1⁄2" psig (3.5kPa). 
Fire features are shipped with all but two (2) completed connections within the fire feature itself. Installation will require connecting the gas line that leads from the gas valve to the underside of the burner, and the line that leads from the gas valve to your gas supply. Make sure to use PTFE on the threads at these connection(s).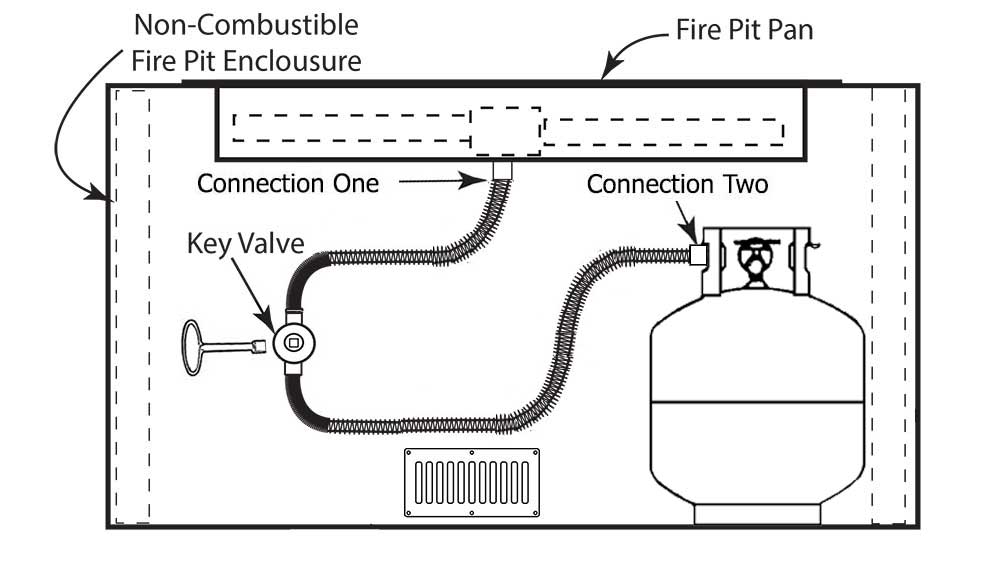 This fire pit requires cross ventilation to ensure no possible build up of gas under the burner. The body of the fire pit was designed with the proper amount of free area to ensure adequate ventilation.

QuarryView propane fire pits are turn key ready.
Assembly
Panels are easily assembled by hand and do not require any tools.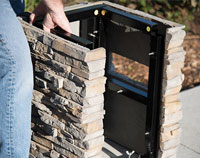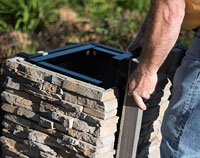 Materials
One-piece cast stone pedestal top
Natural Hardstone Masonry Panels
Stainless Steel Bowl
Frame - 1 1/2" Sq. x 11 Ga. Wall Steel Tubing
Foot Plates - 1/4" x 1 1/2" Stainless Steel with 9/16" Mouting Holes
Mounted w/ four 1/2" x 4-5" Stainless Steel Anchor Bolts (Customer Supplied)
Steel 20-lb Propane Cylinder (Customer Supplied)
Options
Choose wood burning or propane; 16inch or 20inch height; optional slide out drawer for 20inch models; choose glass color; stone profile; and accent color.
Additional Links
QuarryView Propane Fire Feature
QV7-2100
QuarryView Stone Pedestal, Propane, 20inch fire pit
43"x43"x23"
650#
QV7-2200
QuarryView Stone Pedestal, Propane, 20inch fire pit w/ slide out drawer
43"x43"x23"
700#
Sustainability
QuarryView seating steel tubing framework has a recycled material content of 84% of which 73% is post consumer content. For more information about SiteScapes sustainable products and policies, please refer to our Environmental Statement.
QuarryView stone information is detailed and provided by Eldorado Stone. Download Eldorado Stone Leed Information for details.
CAUTION! Media such as (i.e. lava rock, lava stones, lava boulders) has the potential of thermal spalling. This is a process that may occur when media is wet and moisture gets trapped inside of the material due to rapid temperature differences. When this happens the media has the potential to crack or "pop" outside the fire feature. 
WE HIGHLY RECOMMEND COVERING ALL FIRE FEATURES WHEN NOT IN USE 
The use of a cover can lessen the impact of thermal spalling; however, heavy rains, high humidity and the presence of moisture may still cause the media to pop. 
ALWAYS USE CAUTION WHEN USING THE FIRE FEATURE 
Extra caution should be taken when lighting a fire feature when heavy rains, high humidity and moisture are present. Light the fire feature; leave the area allowing any moisture in the media to dissipate. We strongly recommend that during this drying out time that you monitor the fire feature from a distance. This drying out period should be no less than 30 minutes. Continue monitoring the flame from distance to ensure that all popping has ceased before fully enjoying the fire.