QuarryView planters are offered in one style. QuarryView planters features awesome stone pedestals bases and plenty of potting volume for all your planting needs. QuarryView stonework is perfect for natural settings and pairs great with planter beds and foliage.
Assembly
Panels are easily assembled by hand and do not require any tools.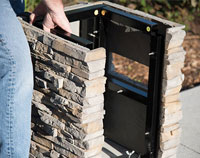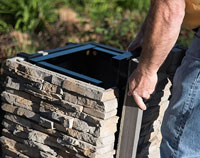 Materials
One-piece cast stone pedestal top
Natural Hardstone Masonry Panels
Frame - 1 1/2" Sq. x 11 Ga. Wall Steel Tubing
Foot Plates - 1/4" x 1 1/2" Stainless Steel with 9/16" Mouting Holes
Mounted w/ four 1/2" x 4-5" Stainless Steel Anchor Bolts (Customer Supplied)
Options
QuarryView planters are offered in one style. QV4-1000 to specify; choose stone; and accent color.
Additional Links
QuarryView Planter End Products
QV4-1000
Stone Wall, planter
26"x26"x26"
240#
Sustainability
QuarryView seating steel tubing framework has a recycled material content of 84% of which 73% is post consumer content. For more information about SiteScapes sustainable products and policies, please refer to our Environmental Statement.
QuarryView stone information is detailed and provided by Eldorado Stone. Download Eldorado Stone Leed Information for details.