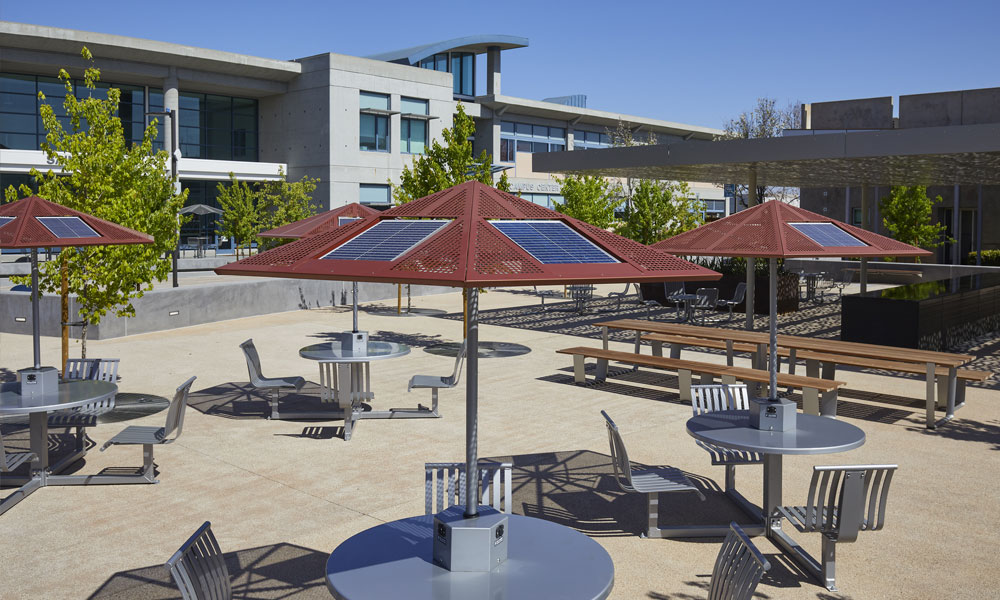 Use the filters below to narrow your search. Search by project name, products included, location or project type.
project name
Mission College, Santa Clara CA
Installed: 12/21/2020
Location: San Leandro, CA
Mission College is a public two-year community college located in the City of Santa Clara, CA in the heart of the Silicon Valley. Mission College has been serving the community for over 40 years and as a growing institution has been making campus wide improvements. One such improvement is the Interdisciplinary Plaza. This community space will beautify the heart of the campus and was described by President Daniel Peck as "The gateway to our entire campus and the heart of student services."

SiteScapes contributed multiple multi-colored CityView carousel tables with solar umbrellas to this project. This will facilitate the gathering of students in the beautiful outdoor space while allowing charging capabilities for electronic devices. The college chose a two tone color concept to match the surrounding buildings. The durable steel CityView product will provide years of seating and solar power for years to come.
Products: Solar Umbrella, Aluminum Panel Umbrellas